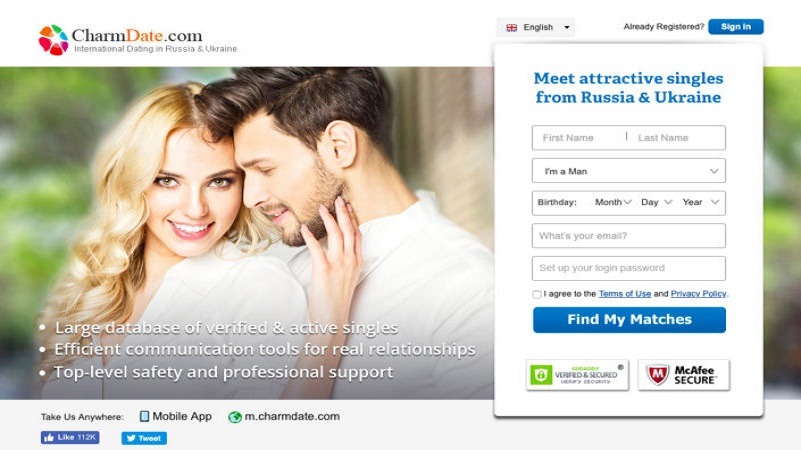 CharmDate.com Review – There is no doubt that CharmDate.com is one of the oldest running dating sites today. It has been around since 1998, helping millions find their ideal partners and create lasting relationships.
The site is owned by the cupid Network, a company that runs a number of niche dating sites like AsiaMe, LatamDate.com, and ChnLove.com. Just like these sites, CharmDate has a specific target market. It is said to be one of the most popular online dating sites like CharmDate.com that allow men from across the world to meet and match with gorgeous Ukrainian and Russian women. It is also known for being a foreign marriage website where people find love.
Local Dating Agencies – CharmDate.com
In CharmDate's own descriptions of its services. It says that they rely on a "huge network of local dating agencies all across" Russia and Ukraine. When I dug a little bit deeper into this issue, it became apparent that this means many of the women are part of large, shady schemes to make money off of foreigners.
RELATED ARTICLE: Bumble.com
Frequently Asked Questions
How to edit profile details on Charmdate?
Go to the profile section and where you can edit your details. But you cannot change your name, date of birth, residence country, and current relationship status. If you want to change these you can contact with Charmdate support team.
What about online security on Charmdate?
Charmdate takes online security and privacy very seriously. The most innovative and cutting-edge technology to ensure registration and usage is under a high level of security and protection. Online data processing and payment systems are protected by GoDaddy and McAfee, leading authorities in online security. The processing services used by the site is verified by Visa and MasterCard SecureCode.
How to search members on Charmdate?
To search for a member in CharmDate, you can use the options listed below:
Quick Search
Advanced Search
Member ID
New Members - click on the Newest Members link in the photo gallery section to view members who have recently joined the site.
Members Online Now
How much does the services in CharmDate cost?
These are the list of pay-to-use services:
EMF Mail - 1 credit each read and send
Live Chat - 0.5 credits per five minutes (for text-only with one-way video chat). Emojis, stickers, and photos cost additional credits.
CamShare - 0.6 credits per minute
Call Service - 1 credit per minute
Gifts and Flowers - prices are listed on the site.
What is Call me to feature in Charmdate?
With this feature, you can authorize your contacts to call you. It's free to make an authorization but for the call itself, you will have to pay for it. Your contact can then call you during your specified time.
What is Special Features in Charmdate?
CharmDate has a lot of innovative ways to let you communicate with people you like.
Admirer Mail
Live Chat
CamShare
Call Service
Gifts and Flowers
Virtual Gifts
What payment methods are accepted on CharmDate?
To purchase credits, you can use credit or debit cards including Visa, MasterCard, American Express, and Discover Cards. All credit card information that has been submitted on the site is encrypted and highly secured.
How do I know the members on CharmDate are real people?
All the lady profiles are verified. That means they have submitted a copy of their personal identification document with their photo.
Is CharmDate expensive?
In comparison to other providers, CharmDate is upper-moderate.
How do I delete my account on CharmDate?
Like other online dating sites, it is difficult to remove the account. To delete your account on CharmDate firstly you need to remove your images, profile details, etc. And then send a request to the Charmdate support team to delete your account.
Phone Number: +1 800-931-5079
Address: 71-75 Shelton Street,
London Asia, WC2H, GB
Reviews
Horrible experience
I used this site many years ago and l'm very disappointed this time. Waste of money. Not worth it. They want to charge you for everything. You can't even put the picture you want on as your profile. Horrible experience.
Sites are full of scam
Most of these dating sites are full of scam artists especially pretending to be females or may be real trying to scam people into getting monies from someone who can be victim to their charm & gets ripped off.
This company is the biggest RIPOFF
This company is the biggest RIPOFF on the Internet. It's nothing but a marketing scam!!!! DO NOT JOIN THIS SERVICE!!! UNLESS YOU WANT TO BE RIPPED OFF. This service gives you the same messages and likes over and over and DOES NOT follow your requests!!!!
Crappy site!
Crappy site! Not worth a dime. Their matching algorithm is filthy with no regard to your search criteria. The reply rate is 1-2%. The overall vibe is awful. You just waste your time and money on drama queens and busted cans of biscuits here. I've had enough of this. It is geared to rip you off. To add further fire to the flames they charge you for 6 months right away and you can do nothing about it because they indicate it somewhere in their hidden sophisticated fine print.
Worst Dating Site
I have been on this site for a few months, and haven't once seen a profile that matches my preferences, ethnicity, or distance. Seems they just roll the dice and throw in random people from wherever. This company needs to be reported. I will be looking into contacting news stations, so they can do some investigating reporting.
Total waste of time and money
Run from this site it is a total waste of time and money
Total waste of time and money
Total waste of time and money. Hardly any matches, and any I did get were hundreds of miles away, 10 years older and 10 inches shorter. So many hoops to jump through when signing up and creating my profile, yet the matches are nothing like my preferences. Lots of fake profiles, and faceless people.
Finally gave up
The platform is inferior and feels very dated. On the app, the photos are cropped so you cannot see faces. There is no method for sorting, deleting matches. When you click on likes, the profile photo has no functionality so it's impossible to see who liked you without looking that person up on the list of matches. Overall, a very frustrating experience – i do not have the patience to deal with it. I called the customer support number to try to get a refund and was on hold for 40 minutes. Finally gave up
Money scam
Inaccurate cancellation policy. Worst service i have ever received. Tried to cancel immediately and now 6 months later I have debt collectors after me. The absolute worst , shameful money scam I have ever had the unpleasure of dealing with.
Sad to see such attitude
Sad to see such attitude, but their photos, questions and attitudes are very political oriented. If you have different political belief, you will have difficult and hard to deal with.
It's too frustrating
I have found this application most annoying to use. I was in the midst of some conversations with some users on the second day of usage for this application. All of a sudden it stopped everything and I needed to verify my account, which means taking a selfie. I hate doing it and I did it like four times. And they all failed. I contacted support the same reply. Unfortunately your account wasn't verify. How fantastic 👏 Seriously, if you already have my phone number, then what's so hard about verifying the face? Anyway, I've given up on this application. It's too frustrating for nothing. The verifying process shouldn't be so hard. Obviously the face on pictures will change depending on the environment.
It is a ripoff
It is a ripoff.A bunch of fake profiles Scammers. Jilust like this site waiting to rip u off.Beggars asking for money gift cards and trying to get any info they can to scam you.Stay away from this Scamsite for your own good.
Zero stars
The staff seem totally unable to control the scammers and scammers. If zero stars were an option; this is the evaluation I would give.
Please avoid
Please avoid this con site and don't bother wasting you time or money.
I do appreciate
I met a few people but I guess I am not everybody's cup of tea. But I do appreciate your help. I met somebody really nice thanks to your site.
I want to spend my time
Although this site leaves much to be desired as far as using it and the options for communicating with and searching for people it just happens to be the place where I meant an individual I want to spend my time and happiness with
Don't fall into the trap!
A very unpleasant experience … don't fall into the trap!
Very fake e-mails
Very fake e-mails from robot women. What a joke! I paid real money to communicate with fake profiles.
Avoid guys
So many women from overseas who claim to be living here and who try to scam you. Never had so many beautiful women from unknow places and one particular so called fake Australian woman from Netherlands asked for my Drivers licence. Avoid guys.
Fraud Website
The first couple of days were great and then I was locked out for no reason. The reset details there was a problem with my account. I'm a fully paid member and I can't get in to cancel my credit card payments so I will have to cancel my credit card. Messaged to website countless times with no reply only the automated response saying they will get back to me.
I am really happy
I am really happy with the outcome and I am currently in a relationship for the past few months. I think he is the one for me and I thank you guys for introducing us.
Met my expectations
Met my expectations. Enjoyed chatting with the lovely people on here. I joined to meet a woman. The person i met is the most beautiful soul. Will recommend to friends.
I would recommend this to everyone. Good luck.
I would recommend this to everyone. Good luck.
I found the girl of my dreams
I think overall was stoked with the results so far. I went out on a few dates and had a good time hooking up with some cool people. So far can't say that I found the girl of my dreams yet but I am just not really looking for that now anyway. I'm using their app on my cellphone and it's fast and there always fresh faces to rate and people to chat with.
I highly liked this website
I highly liked this website, very user friendly. It has lots of people to choose from. They give you tons of options to pick from.
Real profiles
There are so many online dating services, that it is easy to get lost. I'd say this service Dating.com is one of my favorites, there are many real profiles and the membership is not super crazy expensive.
Fantastic site
Fantastic site, not full of wasters like so many other sites about. Real people looking for a great life with someone who they can relate to and maybe fall in love with.
Had nice experience
Had nice experience with someone and get on really well.
It can definitely work for anyone.
This is a great way to find and meet people that are looking for a relationship in your area. If it worked for me living in a very remote rural area it can definitely work for anyone.
This is a very good online dating site
This is a very good online dating site especially when you are not the type of person to go to bars etc. I really like the person I met on this site we have amazing chemistry.
It useless
Do not waste your money the website does not work most of the time when it does it generates storage links and messages, it useless
Total waste
Total waste. Kicking myself for wasting money on 3 month subscription.
Wasted my time and money on this
It seems like a lot of weirdos and scammers are on this site. Very sad I wasted my time and money on this.
Bunch of fake accounts
I personally have to weed out multiple fake people every day, which translates to a complete waste of time. People go on this site to find a companion, but what they get is a bunch of fake accounts claiming to want to know you but in the end they're trying to get your email and other types of information.
Deserves 0 stars.
Deserves 0 stars. Setup to steal your money.
It's a scam site
It's a scam site with fake profiles to entice you. They charge an outrageous amount of money to message "women" who are actually not real. It's theft on a grand scale and should be stopped!
DISAPPOINTED
Most profiles are fake don't waste your money and your time. The men wants to text or email privately using your personal email right off the bet. To me this is a red flag! DISAPPOINTED!
Avoid Avoid avoid.
Thus site is a complete scam. They have very intelligent software to block you passing on your personal details to the women to get off the site and chat freely between yourselves. The aim and purpose of a dating site is to connect two people who may have a chance of longer term relationship? If so why block you actually getting in contact with each other at a place of your own choosing – if not to lock you into the platform and continually rip you off. It will cost you around $5 to 7$ just to open an email and the same for each picture you want to send to your contact. All your emails are monitored and sanitised. There is no real privacy. They seem to use good looking models to rope you in to using it. Phone calls direct to the girls via the site are about $50 for 6 minutes. Total $#*!ing scam being ran out of Hong Kong. Avoid Avoid avoid.